When I came here back in 2007, I didn't know where the heck to go ride the quad. Here are a few ideas with easy access and miles of riding.
Forest Road 19
TNF FR-19 can be accessed from either Yuba Gap, or at Emigrant Gap. At Yuba, turn right at the Kelly Lake intersection onto Lake Valley Rd and go a couple of miles to where the 19 starts (dirt) on the left. On that side you can ride the 19 all the way around to Texas Hill and a lot more. FR-38 goes out to Huysink Lake and Sugar Pine Point. Or, exit at Emigrant, turn right and follow the road for a few miles around to the North Fork Campground. Continue, and on the left is the 45 road, which doesn't go anywhere but has some nice views here and there. Or, continue on up the hill (paved and narrow) to where the paving stops. The 19 goes left, or on the right you can ride out to Helester Point, Sawtooth Ridge and wrap back to the 19 and go to Big Valley Bluff, Quartz Mountain and some super scenic riding. The views out there are spectacular.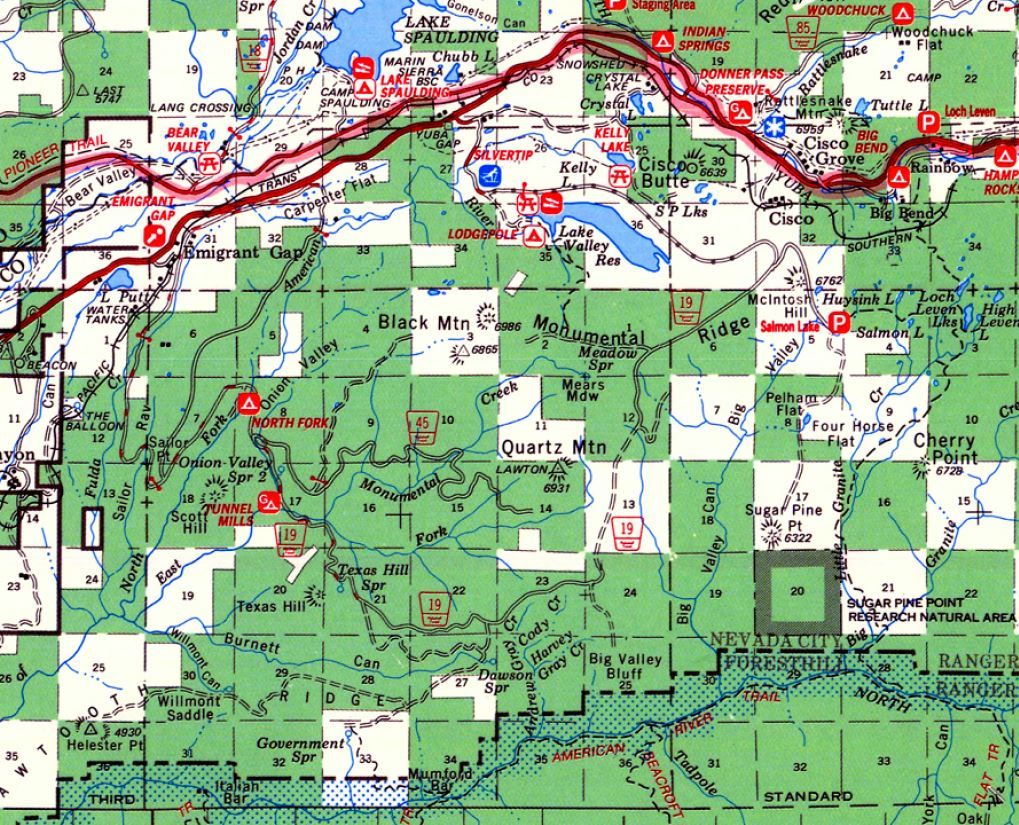 Forest Road 85
I don't know what the current status is, but I used to pay the $5 at the Cisco Grove campground and ride from there. Some nice riding out to Upper Lola Montez Lake, and you can ride to Signal Peak, the Committee Crossing (Fordyce) and to Fordyce Lake itself.
Foresthill Road
After the OHV and China Wall, Deadwood Road actually has a bit of riding, more than you'd think. There's a "jeep road" down to the river (North Fork of the Middle Fork) and an old mine site. Hopefully it's still rideable, I rode before the fire out there.
Further on, there's a right turn onto the 13 road to the right - 6 miles of paving to Function Junction, or you can ride it from the Karmac Mine area further up. It's pretty well burned over from the American Fire in 2013, but still has lots of green and some nice vistas.
There are short rides to the left to the Tadpole Canyon area and the road to Sailor Flat.
At Robinson Flat - a great launching point - you can ride Soda Springs Road (with numerous branches and fantastic views)
Or you can go down the 43 road to the 44 road (Cavanah Ridge) for tons of stuff, which has the great Last Chance Road and some riding across Mosquito Ridge Road in a couple of spots where you can shoot across. You can also access the 44 road off Mosquito Ridge Road. The 33 road is not so very exciting, pretty much flat and out and around endless turns, but there is the Cuckoo Motorway (or so it says on the old topo maps) and a few local views.

Bowman Lake
Tons of riding here. I made this map one day, just for fun. Its not done though.
Truckee
Lots here of course, my faves are out by Boca Reservoir and up to Verdi Peak, and Little Truckee Summit. At LTS you can drive to Webber Lake and there are jump-off points left and right to Meadow Lake, Haypress, Bonta Saddle and so on. Or, launch right at LTS on Treasure Mountain Road, or cross the highway to Cottonwood Road and lots of riding to Bear Valley OHV, Sardine Peak, Heness Pass Road.